Country : Pakistan
Coordinates : 24.49 N, 066.59 E
Description:
The Port of Karachi lies at the E side of the Pakistani coast approx 60nm NW from the mouth of River Indus.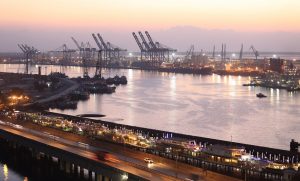 General overview:
It is the country's largest port. The principal imports are crude oil, refined petroleum products, edible oils, machinery, fertilisers and grain. The chief exports are raw cotton, rice, textiles and hand crafts.
ARRIVAL INFORMATION :
ETA's: Initial ETA should be sent 15 days prior to arrival for non container vessels and 7 days for container vessels. They should be sent to Karachi Port Trust. Additional ETA's should be sent 96, 72, 48 and 24 hours prior to arrival.
The ETA message should contain the vessel's name, flag, nrt, grt, LOA, draft and loading/discharging information.
NAVIGATION :
Karachi is approached through a dredged channel, marked by lightbuoys in accordance with IALA Maritime Buoyage System. The dredged depth in the approach channel and the Lower Harbour is 10.3m.
Anchorages :
Outer anchorage: From Sep to May ships can anchor off Karachi Harbour outside the prohibited anchorage area extending SW from Manora Breakwater, as convenient according to draft. Ships are recommended not to anchor in depths of less than 9.0m, and during April and May they should anchor farther offshore in depths not less than 12m. During the SW monsoon vessels should not anchor off Karachi as several ships have lost anchors and cables in attempting to do so in the outer anchorage.
Prohibited anchorages :
Anchoring is prohibited within the area which extends 5nm SW of Manora Breakwater. Anchoring and fishing are prohibited in an area extending 2nm from the coast from a position 1.5nm NW of Manora Point.
Navigation aids :
Manora Point light is exhibited from a tall red circular steel tower, with white bands, a black base and a white cupola, 3.5 cables NNW of Manora Point.
Manora Breakwater light is exhibited from the head of Manora Breakwater which extends SSE from the point.
Bara Andai light is exhibited from a white square building on the island of that name.
Mauripur aero light is exhibited 6nm NNW of Manora Point. Another aero light is exhibited 11.5nm NE of Manora Point.
Caution:
Electric lights at East Wharf (Lat 2450'N, Long 06659'E) within Karachi Harbour can be seen from well to seaward and care must be taken to avoid confusing them with navigational lights.
Tugs :
A total of 10 tugs available with bollard pulls of 3-25t. Seven are available for shipping operations and three small tugs are available for towing operations eg, for barges.
Restrictions :
Pilotage Compulsory for vessels over 200nrt. Pilots board approx 2nm SW of Manora Breakwater lighthouse.
Max size : Largest vessel handled: "Queen Elizabeth 2", passenger ship, 66,451grt.
Max draft for upper harbour 9.75m. Vessels are required to have a full complement of crew. Deep drafted vessels of 8.85m and over may enter or leave on high tide only
Berthing :
.EAST WHARF, BERTHS NO 1-17:
Berths No 1 LOA 229 M Max Draft 10.68 m
Berths 2 & 3 LOA 198 M Max Draft 10.68 meters 463m. Depth 8.5m.
Berth No 4 & 5 LOA 198 M Max Draft 10.5 meters
Berths No 10-17 LOA 145 M Max Draft 9.75 Meters
.WEST WHARVES, BERTHS NO 18-24:
Berth No 18 : LOA 183 M. Max Draft 9.8m.
Berths No 19-21: LOA 229 M Max Draft 10.4m.
Berths No 22-24 are earmarked for container handling and equipped with two container handling cranes APL).
These berths, depth alongside 9.8m, will give priority berthing to self sustained lo-lo/ro-lo container vessels.
[8/2/2016 10:08:34 PM] Muhammad Kamran Muhammad: .JUNA BUNDER, BERTHS NO 25-28:
Total length LOA 145 M Max Draft 08.00 M